They are in Thailand right now, but also still attending language school. This is a copy of their February newsletter.
This is the link to their website:
http://projectthailand.us1.list-manage.com/track/click?u=a3f38c1d07913eed70e8eecad&id=6a527a755e&e=5b659bc87b
Well, I got invited to preach again, so I guess that is a good sign that they at least understood some of my Thai, right?
I just gained 4 extra days a year today when Thailand made it possible for me to do my "90 day report" online instead of in person!
These last couple of weeks seem like I have been doing a lot of paperwork trying to keep up with visas, check-ins, financial reports to our board, etc. so this news was especially welcome.
Lori and company cooked for 8 people at our house for a $3.67 trip to the market.
Here is our February Prayer Letter if you missed it.
This week we are hosting and helping Joey and Candice Kellet who are here on their survey trip. Lots to do, see and talk about as they are planning for the move.
Feb 12, 2015 10:58 am | Philip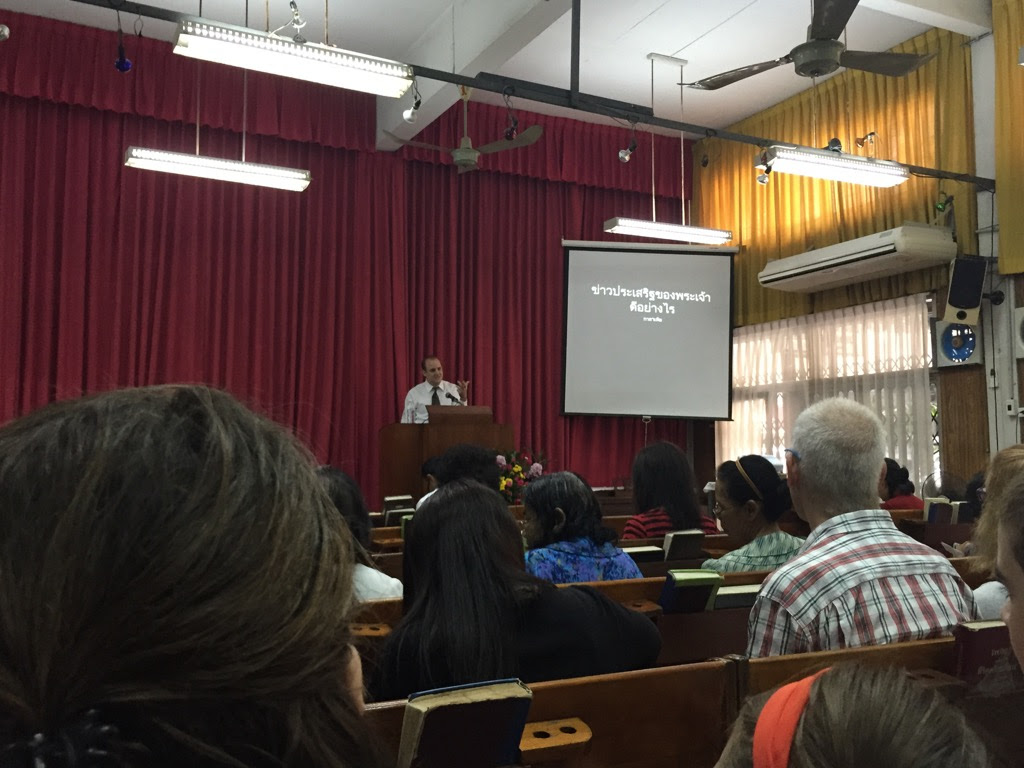 First Sermon Report
Last prayer letter I mentioned that at the end of January that I would have my first opportunity in Thai to preach the Sunday morning service.
Praise the Lord, it went pretty well, people seemed to understand what I was trying to say, and they even invited me to do it again, so I count that as a win.
Does this mean that I am starting a church next week? Not quite. Why? Several reasons, but here are a few:
(1) Preparing that sermon took at least 3x as long as it would have in English. Starting a church takes an enormous amount of work outside of sermon-preparation, and therefore I need to be able to have a grasp on the language sufficient to be able to prepare a sermon efficiently enough to then have enough energy left over for all the other required work.
(2) Honestly, there were quite a few things that I wish I could have said, that I just wasn't able to due to uncertainty with the language, so I just left them out of my sermon. Not what I want to be doing. I need the freedom to think and say on-the-fly clearly what needs to be said.
(3) Thai has a whole different system of language for speaking formally, about royalty or God, and in special situations. In order to show proper respect to what you are speaking about, you often must use completely different pronouns, nouns, verbs, prefixes, as well as add in other additional words. This type of speech is rarely used in normal conversation, but expected in church when talking about God. Basically, I still have a long ways to go in this class of the language, as well as with theological language.
So, we are still plugging away at the language, but at least starting to get to the point where we are a little bit useful. Continue to pray for these last months of language study!
Visitors
Pray for us this week as we will be hosting some future co-laborers as they come over for their survey trip. Pray that the Lord would guide us and give us wisdom in order to be of the most help to them while they are here.
Yours for the Gospel in Thailand,
Philip and Lori Bassham (and Claire and Grace)
Support Project Thailand!
Fast and secure online giving through
Vision Baptist Missions
.
They had a new baby born over there: Grace. There were complications but all turned out well.